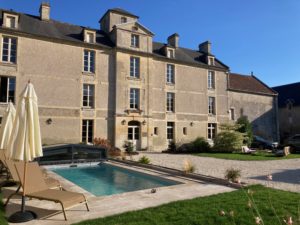 We had been dreaming about it for a long time without ever daring to think about it and well it's done the swimming pool and its shelter await you at the Domaine.
Facing south, the swimming pool is heated and covered.
The shelter will allow you to enjoy it during the cooler periods of the year.
Why a swimming pool?
Because we must not hide it, it is a service highly sought after by our travelers who want to be able to enjoy their holidays as they should be.
Because the temperatures in Normandy are becoming milder and the use of a swimming pool no longer seems to be reserved for the summer months alone.
Why shelter?
The shelter meets several of our criteria.
The first is the safety of our customers. We often think of the youngest among them, but adults are just as concerned.
The shelter provides protection against any fall into the water and thus allows everyone to be safe in outdoor spaces.
The second is using the pool for as long as possible. Indeed, the shelter allows you to swim in the rain or at low temperatures. Swimming under the shelter is like swimming in a cocoon. We feel protected there and having tested it in rainy weather it is quite magical.
The third is energy saving. The shelter allows both to keep clean water, the filtration system is less stressed and to heat the water. The shelter has a greenhouse effect which, in contact with the sun, helps maintain the water temperature (between 28 and 30 degrees), the heat pump works much less and the pool water is heated in part thanks to the sun .
So yes, I grant you, a swimming pool is not very eco-responsible and it was a real questioning during our reflection.
We have therefore sought to design the swimming pool as well as possible so that it does not consume too much water or too much electricity.
The shelter was a response to our requirements. Another point was retained, that of a swimming pool of reasonable size and reasonable depth to limit water consumption.
I hope this little extra will make you want to come and discover or rediscover our Estate.
https://www.ledomaine-de-lhostellerie.com/wp-content/uploads/2022/09/IMG_8210-scaled.jpg
2560
1920
admin7716
https://www.ledomaine-de-lhostellerie.com/wp-content/uploads/2017/06/logo-80x80.png
admin7716
2022-09-24 20:21:40
2022-09-24 20:22:41
New for 2022: the swimming pool and its enclosure