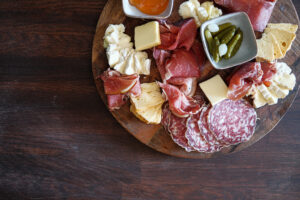 Introducing the region to our travelers is not just about indicating the most beautiful spots to visit or the best hikes to do even if this remains a must, it is also about making you discover all the richness of our region and in particular its culinary richness. .
We are committed to offering you the most complete stays possible so that your experience with us is the most unforgettable.
We offer you the discovery of regional products to drink and eat throughout the day.
I feel obliged to start with our regional must-haves: Norman cheeses.
Every morning but also for lunch or dinner we invite you to discover three Norman cheeses: Camembert, Pont l'Evêque and Livarot. In the form of boards or raclettes (yes, yes raclettes, these three cheeses are a delight once melted).
Other typical products of our region: seafood. They are an integral part of Norman culture. We are a stone's throw from the sea and have chosen to work directly with a family fishmonger's offering the product of their catch every morning.
We offer two kinds of seafood platters.
Finally, we also offer starters, main courses and desserts prepared by a Caennais chef. These dishes are cooked with local and seasonal products and packaged in jars. In self-service you can taste them at the time of your choice.
Drinks are also mostly local and organic products: apple juice, cider, calvados, komboucha…
The only departure from our chauvinism (lol)… wine.
We love our region but we must also recognize that it is not made to produce the good wines that we like to offer you.
On the other hand, we are no exception to the rule of offering you healthy and natural products.
At the estate, you will only find natural wines chosen (and tasted by us of course!!😉) to allow you to sublimate the dishes we offer.
What are natural wines?
These are wines to which no chemical input (or in a reasoned way) is added to the soil (grape growing) or to the vat (vinification).
They are lively, melodious wines that make us discover another way of tasting wine and appreciating all its subtleties.
Why natural wines: because we want to work with winegrowers who are committed to respecting the land, the planet and indirectly us.
All these products are available on order until the same day, except for the drinks which are already available in the relaxation area.
So if we do a little summary?
Staying at the Domaine de l'Hostellerie means sleeping in a house that is several hundred years old, renovated with love to bring you the perfect combination of history and modernity, it means enjoying convivial or more intimate moments according to your desires during breakfast accompanied by fresh local and often homemade products, it means being able to have lunch or dinner directly on site because you want to take advantage of a day strolling around the swimming pool as a couple or because you want to dine by candlelight on the terrace with your lover or lover while the children are in bed.
It also means enjoying a massage given by fairy hands or sharing a playful moment with your children during a parent/child yoga class.
So, you like it? 😉
https://www.ledomaine-de-lhostellerie.com/wp-content/uploads/2022/11/HOSTELLERIE-EXPORT-WEB-355-scaled.jpg
1707
2560
admin7716
https://www.ledomaine-de-lhostellerie.com/wp-content/uploads/2017/06/logo-80x80.png
admin7716
2022-12-06 15:28:30
2022-12-06 15:28:30
SLEEP, BUT WHY NOT ALSO ENJOY